Dermatomes
Dermatomes: a map of the spinal root supply of the skin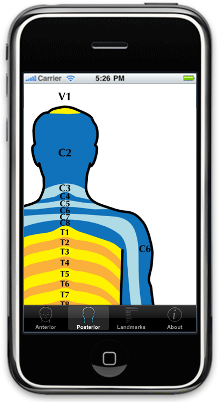 Dermatomes is a handy reference map of which spinal nerve roots relay sensation from particular areas of the skin along with a cutaneous nerve distribution.
Dermatomes provides a zoomable map of anterior and posterior dermatomes and cutaneous nerve distributions with a reference chart of important landmarks.
Dermatomes is an essential reference for neurologists, emergency physicians, family doctors, medical students, physiotherapists, chiropractors, osteopaths and other medical professionals – or anyone curious about neuroanatomy and the workings of the human body.
Consult a doctor if you are experiencing neurological symptoms. This app should not be relied upon to make clinical decisions, which remain the full responsibility of the user. Dermatomes are variable between individuals and the pattern of sensory loss is usually less than the entire dermatome, because of overlap. The map and landmarks presented are a consensus view drawn from numerous sources.
For help with using Dermatomes please visit the support page.
Get OneMail from the iTunes App Store.