OptOK
A universal toolkit for eye examination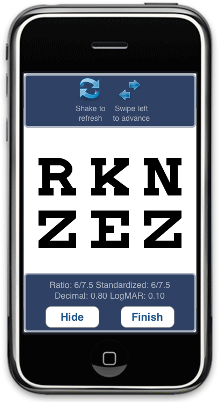 OptOK is an eye examination toolkit that includes:
Snellen visual acuity
Jaeger-style reading tests (the

ONLY

app to offer this!)
optokinetic nystagmus
"I use OptOK to test acuity in virtually every patient. It's quick, accurate and really impresses medical students!" – A UK Neurologist
OptOk is designed by professionals, for professionals at an unbeatably low price.
more features than other, more expensive, optical test suites
retina display support
fully customisable acuity tests
custom speed optokinetic nystagmus test
measure acuity at any distance from 60cm/24in to 7m/24ft
comprehensive range of optotypes (Snellen letters, Ladolt Cs or Tumbling Es)
metric or US distances
US, British and

ISO

acuity scales
Unique sweep-to-progress interface saves time and is easier for the patient
Unique shake-to-shuffle feature to double check the acuity or switch rapidly from one eye to the other
Test visual acuity using your iPhone or iPod Touch. Choose the optotype, distance and acuity scale from a wide selection. Then swipe through the screens to progress to the next acuity – a tap of the screen shows you the result in a variety of formats. A quick shake of the device refreshes the current test to verify the result – and impress colleagues and patients!
OptOK's unique reading test presents the patient with a variety of texts written in simple English at a range of sizes. Reading is the function most patients list as their primary objective when going for an eye test. It also tests a larger retinal area than letter reading, so complements acuity testing. Swipe through the sizes, shake to refresh the text and tap to see the results in both U.S. Style M units and British/Australian N units.
OptOK's nystagmus test is a simple, convenient replacement for cumbersome drums or tapes used to test for optokinetic nystagmus (the optokinetic reflex). Simply swipe your finger to set the stripes moving at the desired speed then look for nystagmus (jerking eye movements). Stop the movement by simply tapping. Optokinetic nystagmus is a normal reflex, so patients with functional blindness will have preserved OKN. Nystagmus that persists once the moving stimulus is stopped may be abnormal.
OptOK is an essential tool for optometrists, opticians, ophthalmologists, neurologists, ENT surgeons (otorhinolaryngologists) and medical students as well as anyone interested in the workings of the brain.
This app should not be relied upon to make clinical decisions, which remain the full responsibility of the user. Consult a doctor if you are experiencing neurological symptoms.
For help with using OptOK please visit the support page.
Get OneMail from the iTunes App Store.