VertiGo
Vestibular rehabilitation for dizziness on your iPhone or iPod Touch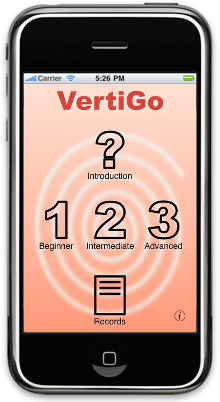 VertiGo: a unique, interactive personal trainer on your iPhone or iPod, to guide you through vestibular rehabilitation for dizziness.
If you suffer from dizziness, loss of balance, vertigo, unsteadiness or lightheadedness, vestibular rehabilitation could help you to beat your symptoms. The aim of vestibular rehab is to re-train the brain, eyes and inner ear to communicate effectively.
Vestibular rehab is often recommended by neurologists and physiotherapists to help patients recover from illnesses like vestibular neuronitis (labyrinthitis), Menière's disease, migrainous vertigo, or whenever patients have symptoms of dizziness or vertigo.
Designed by a neurologist, VertiGo's exercise programs are based on widely-used Cawthorne-Cooksey vestibular rehabilitation exercises. VertiGo will guide and encourage you through exercises for vestibular rehab, while keeping track of how often, and for how long, you perform the program.
Progress from beginner to intermediate and advanced programs as your symptoms improve. VertiGo keeps track of every exercise you do, and can email the report to you or your doctor, to provide a permanent record and improve your motivation.
VertiGo uses a combination of text, illustrations, audio prompts and motion detection to fully take advantage of the iPhone and iPod touch in aiding you with your exercises.
Vertigo and dizziness can be signs of serious illness, so you should consult your doctor before beginning any exercise program. The exercises in VertiGo have been designed by a neurologist based on peer-reviewed, published vestibular rehabilitation techniques. However, Codev Ltd make no claims to the medical efficacy of this app and accepts no responsibility for the consequences of its use.
For help with using VertiGo please visit the support page.
Get OneMail from the iTunes App Store.